It feels like forever but it's only been two weeks since we've been living this way in Toronto.
Yesterday, I went grocery shopping for the first time since we closed ourselves off to the world. I packed Lysol wipes, hand sanitizer, covered my face and wore a pair of gloves.
I quickly realized that it didn't matter what precautions I took – I was touching things despite my best intentions.
And when I brought home my grocery haul, I just stared and thought, Well, I better start disinfecting.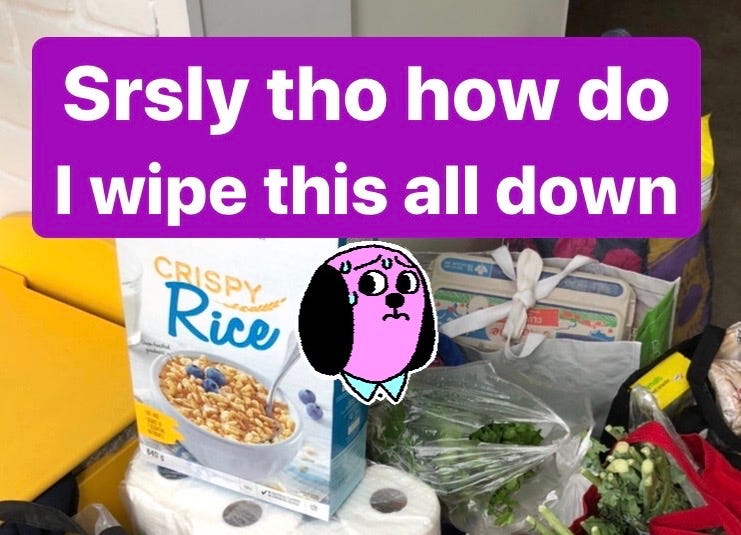 What was I doing on the floor, wiping down tubs of yogurt? It felt so futile. And it took a while. Just enough time for plenty of morbid thoughts.
(Now, before I continue, I want to be clear – you don't have to do this. The most common advice you hear on the news is absolutely the best advice – grocery shop once a week, pick a designated person in the household and most importantly, wash your hands with soap and water when you get home. There is no magical shortcut or inside-knowledge – it's just hand-washing and physical distancing -- those are going to be the things that will get us through).
I'm nervous, who isn't? And because I was weirded out by what I was doing in that moment, taking a Lysol wipe to all my packages, I began to share pics of what I was doing to Instagram.
We're all having the same thoughts.
Some friends said they were doing the same. Others chided me, with love, for going too far. I got tons of messages. I loved them all.
Mostly, I got commiseration from friends who shared that grocery shopping was a totally stressful part of their week, too.
Every new task or chore we take on, or style of greeting we break, is so tough because they're a reminder of the worst-case scenario and why we're living this way now.
It's very random when the stressfulness of the situation strikes home. In this case, during an otherwise mundane task rendered new with my over-the-top cleaning.
Listen — you probably don't need to wipe down your yogurt. But if it helps you to do it once to realize that, go for it.
As for me I'm trying to stay calm by sticking to hope based in evidence, like this story about increased capability to provide COVID-19 testing in Ontario, to almost 20, 000 tests a day by mid-April.
The How-to-help FOMO
The public discourse has revolved a lot around a "wartime effort," and pitching in. Businesses doing the right thing and pivoting to manufacture PPE like N95 masks or making and donating hospital scrubs.
Reading about hospital shortages of PPE and ventilators has been truly terrifying. And it spurs a question I can't shake: What can I actually do about this shortage? What can I do to help anyone with anything?
My friend started sewing masks based on a pattern that's going around online and she's giving them to friends, asking them to pay it forward any way they like, suggesting a food bank to me (thank you!).
The masks are to protect those around you, not the other way around, which is the critical perspective at the root of planking the curve.
I want to help, too. I don't know how to sew. But that's not the point.
What's really unsettling is how helpless we feel right now, and that feeling has been coming in national waves as we watch the news with dread – China, Korea, Iran, Italy, Spain, now the U.S.
There's really not much in the moment, is there, if you're not a frontline essential worker? Staying home and figuring out a new way of doing things is really the only way to help right now, for most of us. Of course, if there is something you want to share with me, so I can share it in this letter, do let me know.
New ways to contribute will crop up, for sure. We are in this together for a long time.
TLDR
It's tough to read dire news and feel completely unhelpful but we all have one, crucial job – follow the hand-washing and physical distancing protocol. It's what every one of us has to do

Want to help? Help your neighbours, your family, your friends, the way my friend sewed me a mask. Until we figure out how to do more
Money, Money, Money
The government has outlined how they will get cheques of $2000 a month, for up to four months, into the hands of workers who have lost income due to COVID-19.
Don't fall for scams.
Small businesses are rallying for more than a 10% wage subsidy. If you run a small business, this petition is for you and you can check out this database of over 17, 000 stories from small business owners.
If your paycheque remains unchanged, consider continuing to spend at your usual local businesses, ordering online or whatever way you can, like gift certificates.
Still making the same pay but now your dogwalker and housecleaner can't come by? What do you think you should do? You can't support everyone forever but we're all living day-to-day, some of us more than others when it comes to money.
When I'm thinking about a place to spend money, I think about donations to the most vulnerable and an organization that can help, such as a food bank.
TLDR
Access money you've lost in income

If you haven't lost any, share the wealth
Webcam window to the outside world
In the last year or so, I've learned about consent as it applies to our digital relationships, thanks to this website and some very smart people who are figuring it out by using frameworks for consent in relationships IRL.
I've learned I shouldn't screencap private conversations and share them, for example, because there's no consent there. So that's been a rule I've been following.
But everything's fast and loose now. I'm out of my comfort zone. But it's where I need to be if I want to see friends.
Just like everyone else, I've been Zoom-ing a lot. The first time I saw my oldest girlfriends all together on my laptop, I felt such a surge of affection, I went to screencap it. Tchk! That loud camera-click sound ("Oh no!" I thought, I hadn't asked!).
"Uh, guys? Can I take a pic?" Of course! Everyone smiled, I took it and promptly tucked it away in a folder like all of my digital ephemera (such a pack rat).
The next time I took a pic of different group of girlfriends, I emailed it around to everyone in the call and it instantly found its way onto social media.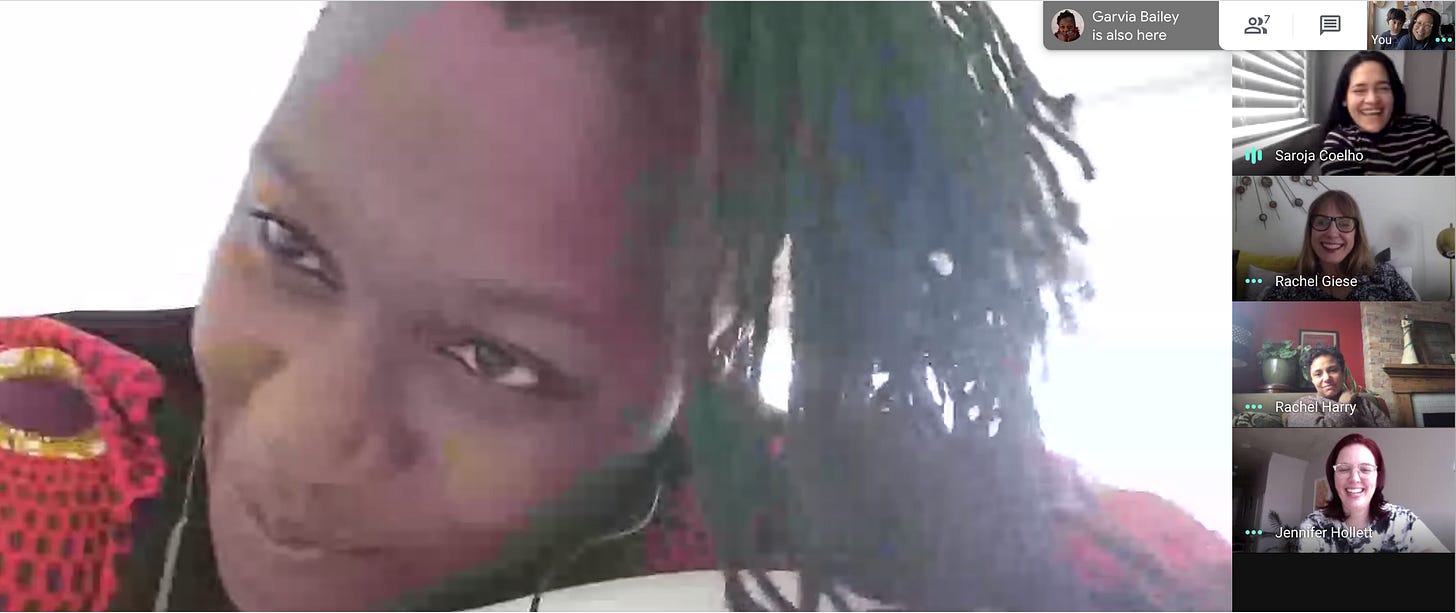 I didn't mind. But every step of this was new to me.
Yesterday, I was in a group video chat and I didn't take a screencap but someone else did and the first time I saw it was on Instagram.
I thought about that a lot. Nobody asked to take a photo or post, or did I miss that?
When Zoom launches, there's an opt-in for video. Does that mean I open my front door, effectively, when I click into a video call? Is that my moment of consent to the entire outside world? Is this where our front doors are now, in our webcam, even though we're all getting more raggedy by the day?
I'm not sure. I don't think any of us are, since we're changing our behaviours every damn day that this virus is driving us to Zoom and Houseparty faster than you can bake bread (the equally forceful yet reaction to the drive toward tech -- the intense urge to homestead).
One thing a thoughtful friend mentioned to me is that the whole group video thing triggers his social anxiety. There are no natural sidebar conversations or nuance, just one-at-a-time public speaking.
I get it. Truth is, some of my favourite conversations this week were on the phone. Very old-fashioned. Very voice-y.
Phone calls felt relaxed. I stood up, pointed my toes, waved my arms, paced. It felt great, actually. I know we're all on video chat now because we're social creatures and starved for each other's faces but phone calls – sometimes they're actually better.
TLDR
We're all video group chatting. Make your own boundaries and communicate them so this little tech-use boom can be good for everyone

Take snaps if you want, celebrate! YOU HAVE FRIENDS! I mean, I plan to Zoom-karaoke for the first time very soon so cool — just go for it whatever way you want! But don't forget about the lowly phone. You won't even have to do your hair
Everyone is dancing at home (alone but together)
No more playgrounds, basketball, tennis, so everyone I know is dancing at home instead.
Live classes or just a wild "close friends" only Instagram session to Beyoncé (thank you, friend, I live for this).
I'm sincerely so grateful to people posting dance videos. I have my camera off, but I'm dancing, too. It changes your entire day. Do it!
AMT has a book recommend for you
I was chatting on the phone with Anna Maria Tremonti this week (not a humblebrag -- I fangirl, too) because a pre-COVID coffee plan became a call.
It struck me that being at home for her might be like an amplified version of what we're all going through. After leaving The Current, where she hosted for 17 years, she's out in the world during a crisis where it's more urgent than ever that people be tuned in to clean, accurate information.
So how's that going? I asked.
"I'm processing a lot, I still consume a lot of information," she said. "The only difference is I'm not turning it around in a short time period for broadcast. I'm absorbing it all and trying to do my part as an individual who can actually socially distance right now."
She's holed up at home, mostly, in a multi-generational home with her partner and two young people in their 20s. She's super tuned-in to Twitter, although wary of junk info, and recommends Jane Lytvynenko's work at Buzzfeed busting misinformation, as being particularly good.
Anna Maria worries about COVID-19's effect on the economy and the ramifications for younger generations -- basically all the unknowns. She also admitted that the last time she ducked into a store, she thought, "No, I'm done" (national treasure journalists — they're just like us!).
Another thing she mentioned, if you want a book recommend, is that she's hunting up and down for her copy of a Geraldine Brooks novel called Year of Wonders, historical fiction about a small British town during the plague, for obvious reasons (in my house, we watched Contagion on Netflix, so yeah no, we are not the same).
Before COVID-19, I was really looking forward to having a coffee with her, to just listen and learn, and then when COVID-19 struck, we were still able to turn the coffee into a call.
I hope you're able to keep some of your plans, and make new ones, too. And that you're doing ok. Let me know what you think of this newsletter as I keep trying things out. And thank you for reading!
Hannah