These days, I sit upstairs all day like someone shunned, chained to my desk, trying to pretend I can ignore the news notifications on my phone and actually work.
Downstairs, the world teems with life – Bananagrams, my 6-year-old's unhinged chipmunk laughter indicating Netflix is on, the 8-year-old having a loud Pokemon card battle with a friend over FaceTime, occasional tiffs and tears.
But I can't complain. I still have work. As of last week, almost one million Canadians applied for EI and the government expects 4 million applications for their COVID-19 response relief fund. I don't even know how to process that number.
And the notifications keep rolling in.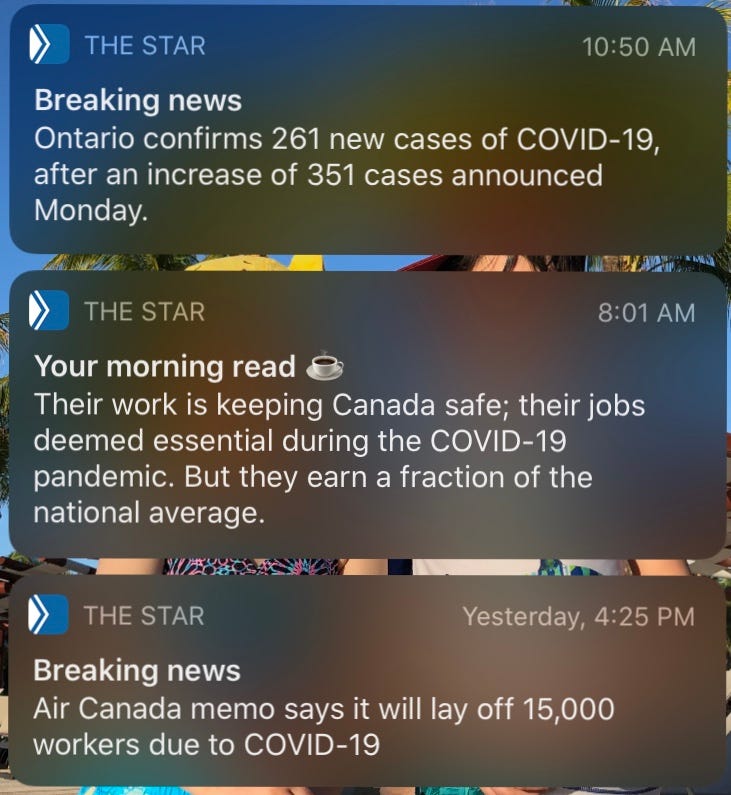 The twin strands of the COVID-19 story are the healthcare disaster and the economic fall-out.
I just started working on a new podcast to help young people navigate personal finance in a world turned upside-down by COVID-19 (it won't be ready for a few months but stay tuned).
I have the luxury of thinking about the big picture of the economy. Others among us are wondering how to pay rent tomorrow.
Today's newsletter is about the job market and in a Q&A, we'll visit both ends of that financial spectrum, the luxury of time versus the pressing need to make ends meet immediately.
Leah Kim Brighton is a career advisor and hiring strategist. She coaches candidates (job-seekers) toward new gigs and works with clients (companies), primarily in start-ups, to staff up in various industries.
We first met randomly at a post-conference drinks night and we've stayed friends. What I love about Leah is her energy (literally -- she showed me her indoor, COVID workout, a weighted skipping rope) and her desire to help others (she began her career as a speech therapist, switched tracks to the federal government and started a non-profit for international adoptees before going into talent recruiting, staffing up Wealthsimple in their early days). Now, she runs her own company and patiently answers my questions.
---
ATEOD: First, tell us a bit about your agency.
LKB: I work with a variety of companies, which I find really interesting, but it's also inadvertently helped insulate me against some of the transformations with COVID, because any company that was in travel, for example, is definitely reconsidering their business model right now. And, you know, my heart goes out to them. These are founders and teams that have worked really, really hard and have a great product. But timing is everything.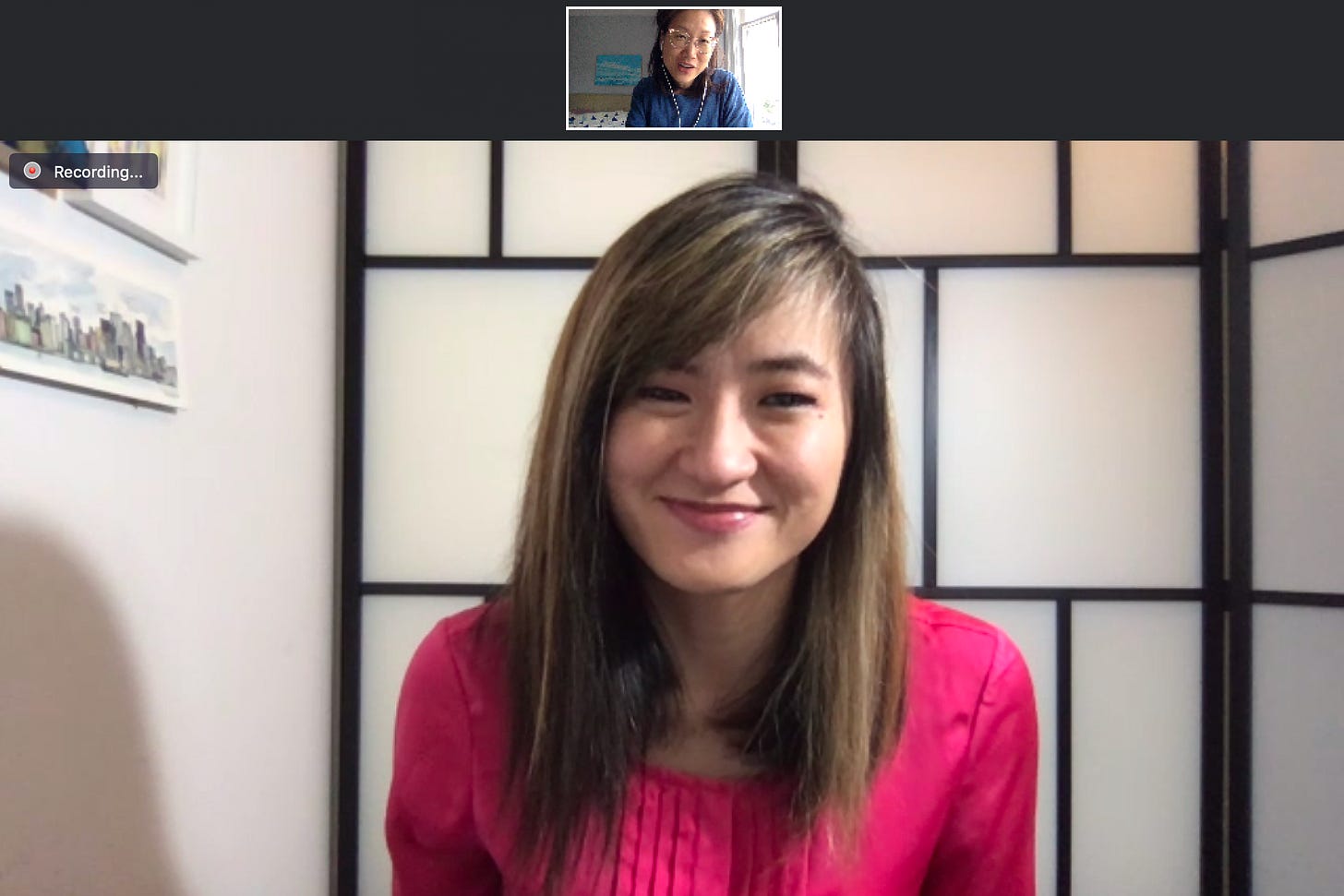 Here we are (where else?) in a Zoom, with Leah in main image
---
ATEOD: Can you tell us about the range of industries, among your clients, that are still going strong?
LKB: Yeah, the range is inclusive of anything to do food delivery and supply chain, there's healthcare, like, different services or products in health, and healthtech and research.
ATEOD: During a time when a million Canadians have applied for EI, describe what your work life has been like in the last two weeks?
LKB: It's been pretty crazy.
As of last Friday, traffic on my LinkedIn had gone up by 437% from the previous week.
ATEOD: Why do you think that happened?
LKB: When people are laid off, the first week they try to apply for EI. And then you know, they do a lot of self-care things. They're very sad. They reach out to family and friends. Usually they take the weekend to do something to feel better.
Then they say, Ok, Monday is when I'm going to start to try and find a new job.
ATEOD: The increased traffic is from people who are looking for work?
LKB: Yes. Or I also feel that even if people have a job, there's so much instability they're looking ahead. Maybe they've seen people laid off last week, like a candidate I spoke to yesterday [at a web development agency]. There was a round of layoffs on Monday, and then there was another round of layoffs on Friday. So the people who were laid off on Friday were very confused because they thought all the layoffs happened on Monday but then they showed up on Friday and were also laid off. My candidate survived both those rounds of layoffs, but he just saw a hundred of his colleagues pack up their boxes and leave.
ATEOD: Can you tell me which industries need to step up quickly?
LKB: Yeah, definitely. Walmart and Amazon are hiring. I'd say any large retailer that has a significant delivery feature. Tech and software for deliveries and e-commerce, broadly. There are other ways you can cut companies, as well, as far as temporary hiring for long-term [versus permanent]. Amazon is hiring but probably all of them are going to be temporary workers and won't have benefits. But they're still hiring and that's something people should examine. It can just sometimes be hard because they have to swallow their ego. People don't necessarily want to work in a warehouse. But that's a different conversation.
Also, probably the federal government. The portal for EI, the CRA portal -- none of those portals were made to handle this kind of traffic, so I'm pretty sure the government has to be working with agencies right now to hire aggressively to try to address that.
I also have seen an increase in security --
ATEOD: Physical security?
LKB: Yeah, like, standing-at-the-door security.
ATEOD: What else do you see in the job market from your perspective?
LKB: There are a couple of different ways to look at it. It's not only an increase. What's interesting is the companies that are continuing to hire, according to their hiring trajectory that they had planned originally, versus just canceling an interview 30 minutes before the actual interview.
ATEOD: Have you seen that?
LKB: Yeah, one of my candidates. His on-site interview was changed to virtual, which is definitely what should have been done but then, less than 20 minutes before the Zoom interview, it was canceled. That's a terrible experience for any candidate because you go through a lot to prepare for an interview, right? It's terrible. It's crushing.
I really do encourage companies, if their business models still make sense, to continue to hire because they have such an incredible advantage to acquire talent. For example, one of my candidates was in process with six companies when COVID hit midway through the interviews. He had two offers at the time and those were rescinded. Then, two companies put their hiring on hold. They couldn't decide [whether to move forward, due to economic instability]. But he didn't want to wait for them, so there were only two companies left. Each of those companies had a 50/50 chance of getting this candidate and he's a very good candidate. What it means for companies like my clients is they have a unique opportunity to compete for this kind of talent that they otherwise wouldn't be able to.
ATEOD: If you're a candidate, what are your best tips for finding a job?
LKB: For candidates, I always encourage them to think, What are the key things they really want to see in in an opportunity and in a company? But that's more for long-term. For right now, to be realistic, it depends on what your needs are.
If you don't have the luxury of time, I would encourage people to look at those industries that are hiring pretty aggressively right now, as well as industries and companies that have been online for a long time. You can do surveys online and they pay you money. You can do 99designs, you can sign up to be a freelancer on Upwork. There are short-term ways to pay your rent, to pay for groceries. And it's important to find the job that meets your needs immediately.
For candidates who have the luxury of time, I encourage them to think about what are the top three things that are really important to them in an opportunity. It will help them choose a company and role they actually like and want to keep.
For example, say you have a candidate in their 20s and they're single. They want to make money, be promoted, climb that corporate ladder, and that's what's most important to them, which is certainly fair enough. Maybe they should go to San Francisco, relocate.
ATEOD: But that's not even possible anymore.
LKB: Yes, right now it's not, but the framework is what I mean. Optimizing for compensation, you know -- Google and blue-chip tech companies, they have offices in Toronto or Kitchener-Waterloo.
Other people, it might be more important that a company has hours that enable them to leave at 5 o'clock and pick up the kids. That flexibility might be more important than a $5K or $10K difference.
I've had other candidates who optimized for impact. They want to work with a company they personally care about. That's where I think the healthtech industry is really fantastic. I think they're building the future in a way we will benefit from, and your kids will benefit from. And that's really important to them so they've left a $30,000 difference in compensation. Not always! But once you reach a certain salary band, the difference means less.
It depends on the salary you're at, where the incremental increases in compensation has a greater or lesser impact on your lifestyle. It also depends on your lifestyle as a whole, if you're single or if you have a family, if you're taking care of parents or you're sending money elsewhere in the world. There are lots of different individual candidate scenarios.
ATEOD: Everybody's in this tumultuous time right now, whether you're looking for a new job or not. What's your advice for how to weather this period?
LKB: I say just breathe. And this too shall pass. We will definitely have a post-COVID life. Thank you, Leah, for taking the time to chat. Leah cares so much about her work, and being a matchmaker for candidates and clients, that she started a YouTube channel and I love it.
As for you, I really hope you're doing ok with the constant change and financial upheaval. If you've lost work, I'm really sorry and hope that government efforts and wage subsidies will help and that you'll find ways to make it until you can turn the corner.
If you know someone who might like the information in this newsletter, please forward it.
And as ever, I'm working on making this as useful as it can be. Let me know your thoughts on what you'd like to see in the future.
Thank you for reading. And wash your hands!
Hannah