Discover more from At The End Of The Day
A news perspective that puts people first -- relationships, caring, social fairness and the greater good
Over 2,000 subscribers
Money matters in a personal pandemic
Did you set yourself up to get through this ok?
Welcome to At The End Of The Day, a newsletter that aims to boil down a paralyzing amount of news to a perspective that empowers you to make decisions in your life.
---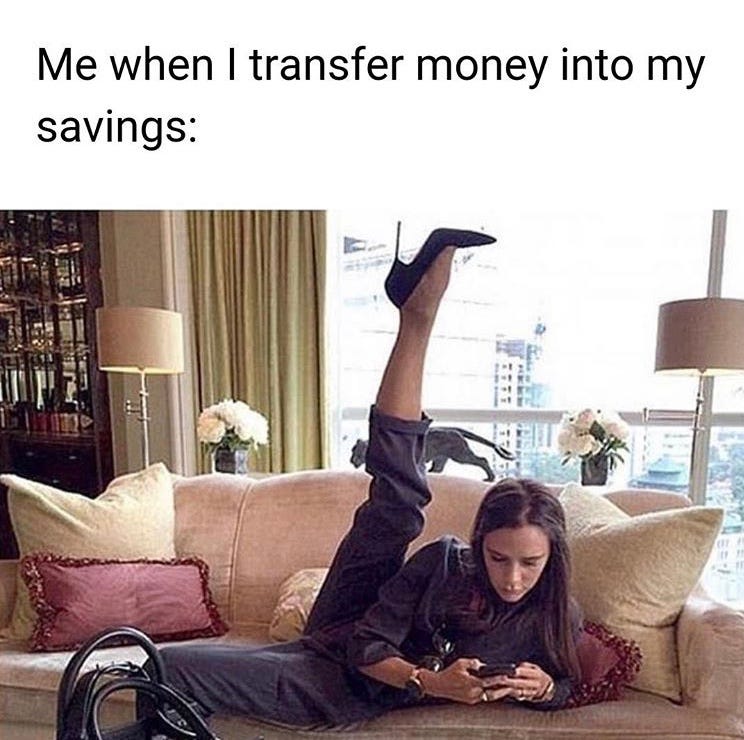 Credit: Instagram/the_money_manual
That time we had a personal pandemic
I'm thinking about money because I've been producing back-to-back personal finance podcasts for the Globe and Mail. First, there was Money Moves, which dropped in February (a fave part of this process was working with Melissa Leong, a super-smart, non-scary personal finance wizard).
Next up is Stress Test, coming in June, hosted by the personal finance team at the Globe, including Rob Carrick, well-known personal finance journalist and self-professed "I'm always in a hurry" guy (I can relate).
It's made me think a lot about how personal finance set us up well, or not, to weather a crisis like COVID.
Last week, I wrote about the coping skills I developed after my family was in a car accident. Some of you wrote back to tell me about your own ways of getting by (cheers to "a glass of wine at 5 pm").
What I didn't write about last week was the accident itself (it's a bummer, really) and that in the aftermath, my husband Isaac suffered from unpredictable, debilitating headaches. Welcome to the world of concussions.
That was the start of a long, tough road but in a strange way, Isaac's concussion prepared us for this pandemic.
Protecting his injured brain meant changing the way he lived. No more restaurants or bars (too loud), no more basketball or soccer (movement brought on painful headaches) and there was no more paid work.
Dealing with a sudden retreat from the world is depressing. Dealing with a sudden loss of income is scary.
And that's how his concussion basically prepped us for a pandemic. We weren't battling a coronavirus but the results in our lives were strangely similar.
What I'm into right now
Katie Hawkins-Gaar runs the Leadership Academy for Women in Digital Media at Poynter Institute in St. Petersburg, Florida. I was lucky enough to go last year and it re-oriented my entire way of approaching work relationships and journalism. She has a really great newsletter called My Sweet Dumb Brain, and the latest struck a chord, on grief and letting go of your alternate reality. [1]
Hustled is an excellent new podcast by Sara Mojtehedzadeh, the labour reporter at the Toronto Star. It focuses on the nature of temporary, precarious work by telling the story of what happened when Foodora delivery workers tried to unionize. "There was just an atmosphere of people wanting change and needing to see it in their lives." [2]
Money to keep the boat afloat
My husband, Isaac, is amazing in many ways.
I'm in awe of how he was able to get through that initial concussion period with minimal anger, a lot of calmness and eventually, his natural buoyancy that just bubbled back.
Life was tough but it would've been much worse if we had financial stress.
And the accident definitely had financial repercussions.
First of all, there was our car, a Toyota 2005 hand-me-down from my parents. We don't care about nice cars (in our perfect world, we wouldn't even have one) so we replaced it with the cheapest, most trustworthy, used car we could find. Insurance gave us what our old car was worth on paper, which was $5000, but there was an another $3000 out of pocket.
The far deeper hole, of course, was Isaac's income. The concussion meant Isaac couldn't spend much time looking at screens or having conversations, which is basically his entire job description as an animation director. Overnight, we became a single-income household. Guess how far a single income, even a decent one, goes when you have two kids in childcare and live in downtown Toronto? It was humbling (mainly I was embarrassed that it came as a surprise). One income didn't cover the daily expenses for our family, not in this city.
The good news, back in 2017, was that we were financially prepared to go down to one income because we were planning for Isaac to do a master's degree that year.
He had decided to quit a job he loved to go back to school. By the time September rolled around, though, he had to drop out by the end of the first week. The concussion made high-intensity classes — the concentration, the reading, the conversations — totally impossible. Our own personal pandemic kept changing our plans. It taught us to let go of the idea of going "back to normal."
We began receiving disability payments from insurance he had been paying into as a freelancer. But having a lowered household income was supposed to last nine months, while Isaac got his degree. It's now been three years since the accident.
I don't want to sugar-coat what that's like. But money-wise, we have been fine.
Moreover, and this is kind of weird to admit, we are as lucky as anyone can be during this pandemic.
Financially, we still have my income. And crucially, Isaac has recovered enough to look after the kids, all day, day after day. That is huge! We lived through times when he couldn't sit through the chatter of his own beloved children at dinner, as the loud cross-talk was too taxing for his brain. Now, he takes these goofballs on "ADVENTURES" every single day.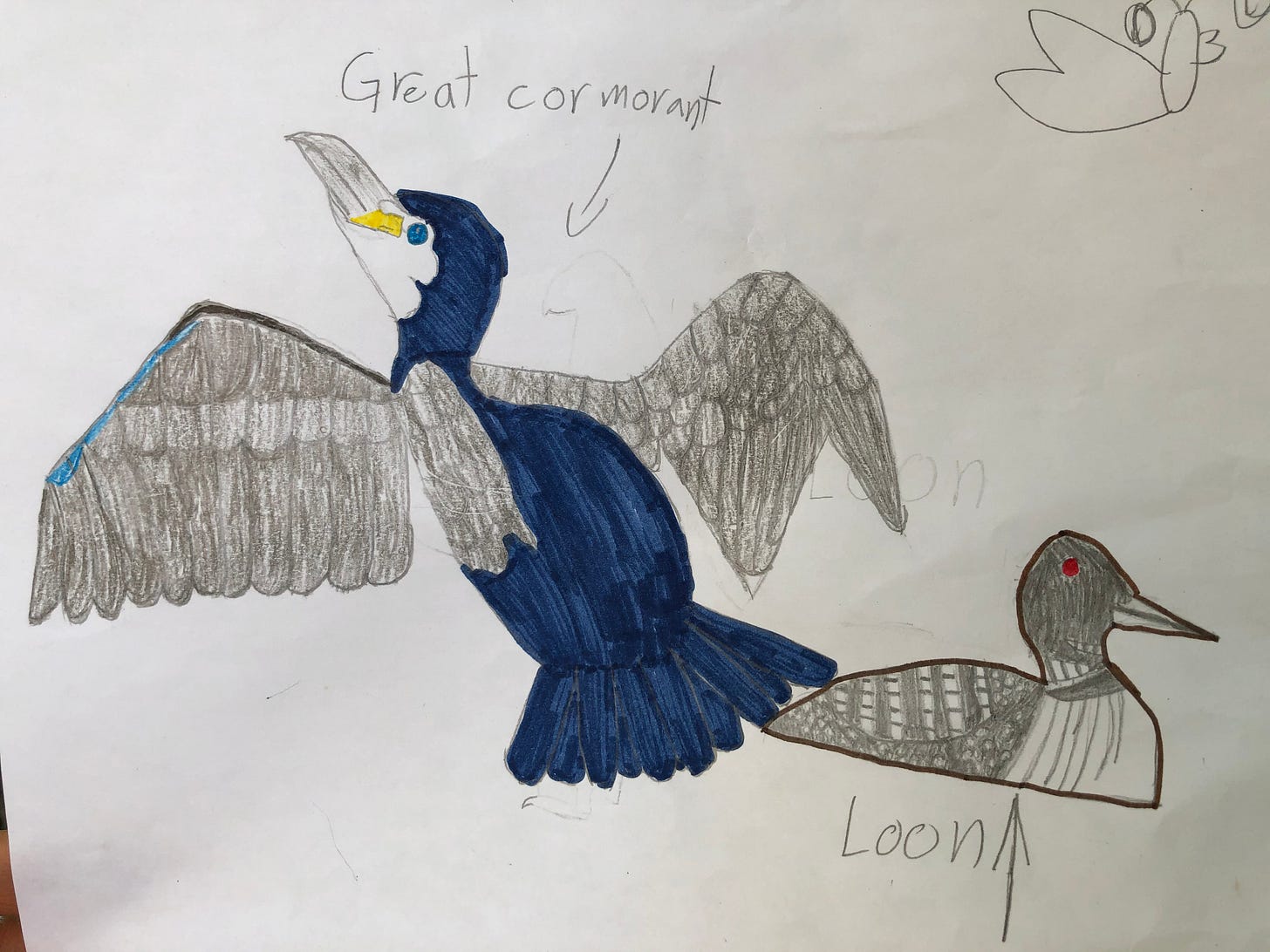 By popular demand, artist renditions of the above-mentioned daily "ADVENTURES"
---
Having two parents at home, one doing paid labour and the other doing the unpaid-but-even-more-important-birdwatching-and-lunch-making labour, is the best possible mix for a family with young kids. If you can afford it.
How did we arrive at a place where this was even do-able?
In the beginning, it came down to having an emergency fund. We didn't call it that in 2017, when our income was halved, we just called it savings.
Now, in the midst of an actual, global pandemic, almost a quarter of Canadians have reported losing most or all of their income. [3] And back at the end of 2019, the average non-mortgage debt per consumer in Canada was $23, 800 (holy cow, really?). [4]
No wonder every financial expert is getting back to basics to stress the importance of an emergency fund. [5]
We need financial literacy now more than ever before (and yes, the term "financial literacy" is the unsexiest phrase in the world, just let me say it once and I promise I won't do it again).
I know, however, that the world of personal finance is itself a luxury.
Our family scrimps but I'm in no way misguided into thinking that I've improved my socio-economic status via hard work and nothing else. I have privilege of all kinds. Systems were designed for me, an educated child of immigrants who is in a heterosexual, property-owning contract, I mean, marriage. Really. I had to climb up to get on the ride but this waterslide was designed for someone just like me.
When people are below the poverty line, it isn't because they aren't applying themselves and it sure as hell isn't because they haven't maximized the room in their TFSA.
Poverty, growing income inequality and barriers to jobs with dignity, I know those are issues that won't be fixed by a personal finance podcast.
But, if you have a decent income and you carry consumer debt and your house is filled with fancy things, yeah, I do think you can probably do better.
I grew up with hard-working, job-juggling, immigrant parents, so I know that we can't necessarily equate how hard people work with their income. But having grown-up that way, I also think the mental load of money stress is a terrible trade-off for having nice things. I'd rather have more space to recover from a concussion or a pandemic or (dare to dream) travel again one day, vaccinated and ready to go.
As I continue to write ATEOD letter, I have so many questions about money and systems, including how to wrap our minds around a universal basic income.
Let me know what questions are weighing on you. And in the meantime, I'm going to list a few great folks that I've come across in this personal finance podcasting phase of my worklife, it's in the further reading links below.
And a shout out to the first personal finance professional I ever worked with, Kathleen Peace, who is a dream. She was the first person to help me understand that I could use money to live my life, rather than just be stressed out by it.
While I'm at it, I'm going to shout out all of you! I'm super appreciative that you're part of my growing ATEOD crew.
Hannah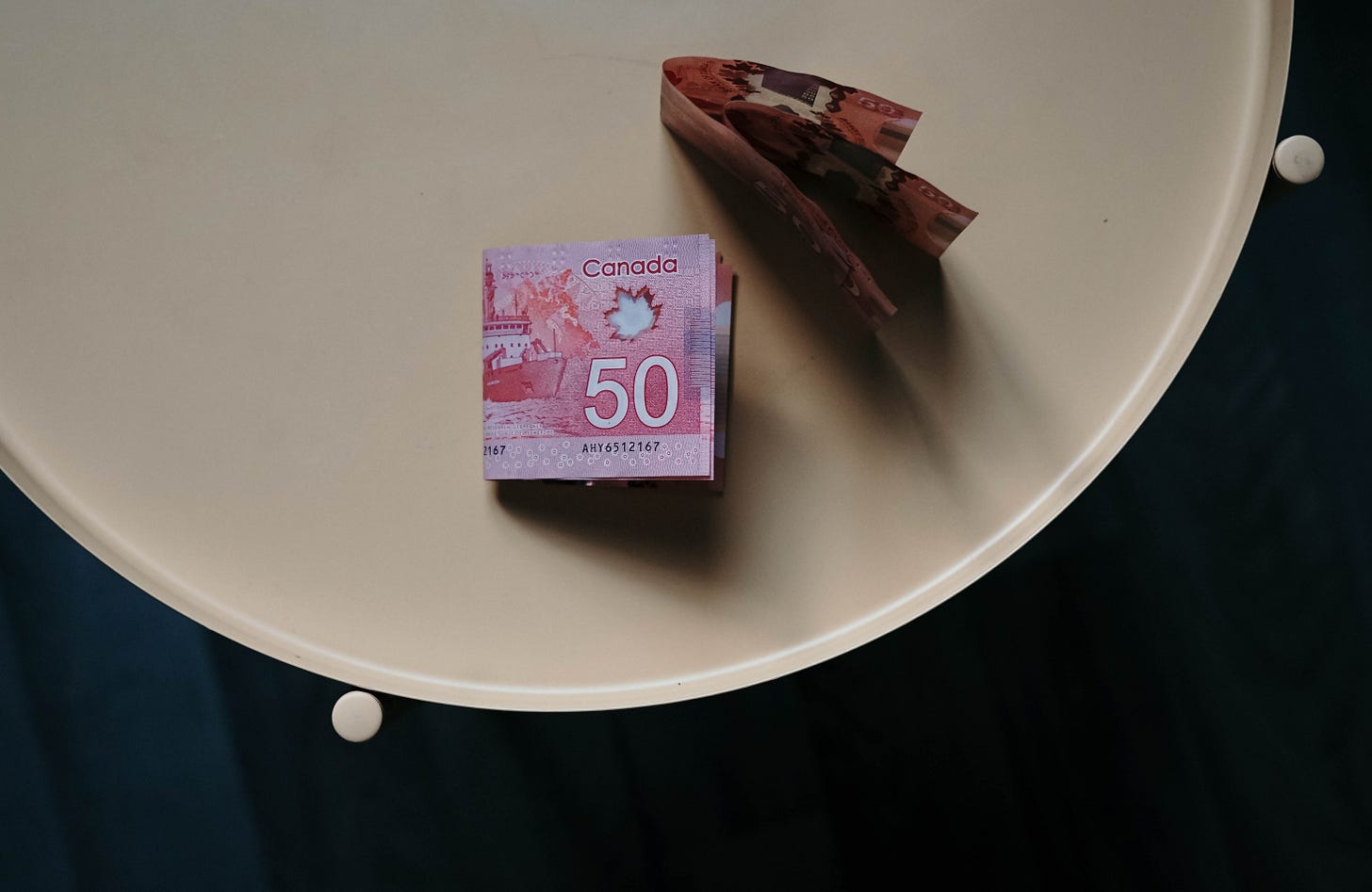 Credit: Toa Heftiba, Unsplash
---
Need something new to talk about? Subscribe to The Conversation Piece, a podcast that challenges the way you see everything.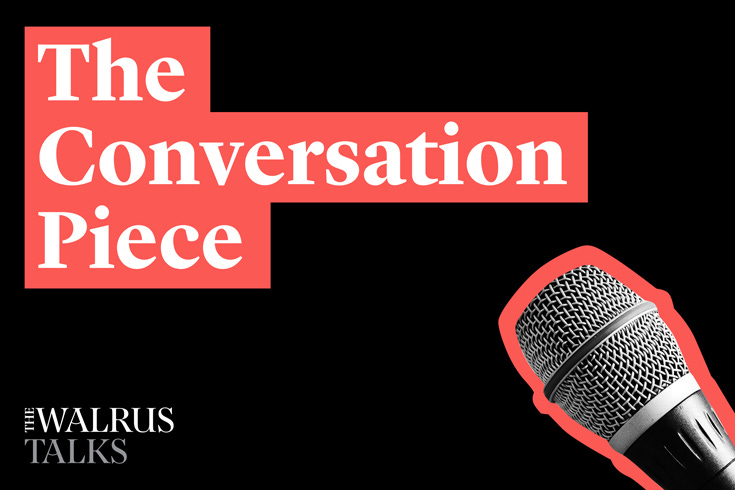 The current season of this podcast features Globe and Mail health columnist André Picard, author Margaret Atwood and today's episode featuring Janice Price, director of the Banff Centre, on why we turn to the arts in times of crisis.
Subscribe today.
---
Further reading:
Personal finance people to follow: Rob Carrick, Melissa Leong, Shannon Lee Simmons, Bruce Sellery, Jessica Moorhouse. And the podcast hosted by Melissa Leong, Money Moves: Conversations about Investing.
[1] The would-have-been past and the should-be future, My Sweet Dumb Brain by Katie Hawkins-Gaar
[2] Hustled podcast
[3] Nearly a quarter of Canadians say they've lost most or all of their income during the COVID-19 pandemic, The Logic
[4] Canadian consumer debt nears $2 trillion as mortgage costs jump, Financial Post
[5] Suze Ormon is back to help you ride out the storm, The New York Times