Happy weekend! How was your work week?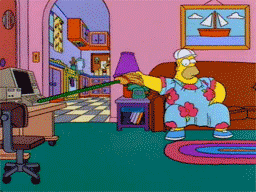 Don't know about you, but just living COVID life itself feels like work. I am exhausted by week's end.
So today, I am hitting the counter-programming hard. That is to say, no COVID news. We live it. You're marinating in news all week. But what else are you doing?
I still feel the pressure and grind of the work week (new and improved, featuring all-day home-school!). This means the weekend is freeing, more than even before, because I need it so badly.
The bird brain school of meditation
My 8-year-old son is now into birding big-time and somehow, I became his preferred companion. Every morning, we stroll neighbourhood streets together, the birder and his student. I didn't know anything about birds but now I get to see them through his eyes.
Sparrows are meh. Pigeons are jokes. Seagulls do not even register. What he's looking for, every day, is a woodpecker. For some reason, they are the top prize. Any kind of tree-clinging bird is very exciting to him. And the obsession is infectious.
Yesterday, we were staring at some trees when he jolted to life and scream-shouted, 'Mommy! A woodpecker!"
I can't see well. "Where?"
"Look! There!"
"Where?"
"There!!"
"Where?"
"Mommy! THE LUMPY THING, PECKING!"
Every morning, I get a deep laugh out of whatever weird moment transpires. The jokes are gentle, much like the activity itself.
And today, it struck me that maybe birdwatching is a way to gamify meditation.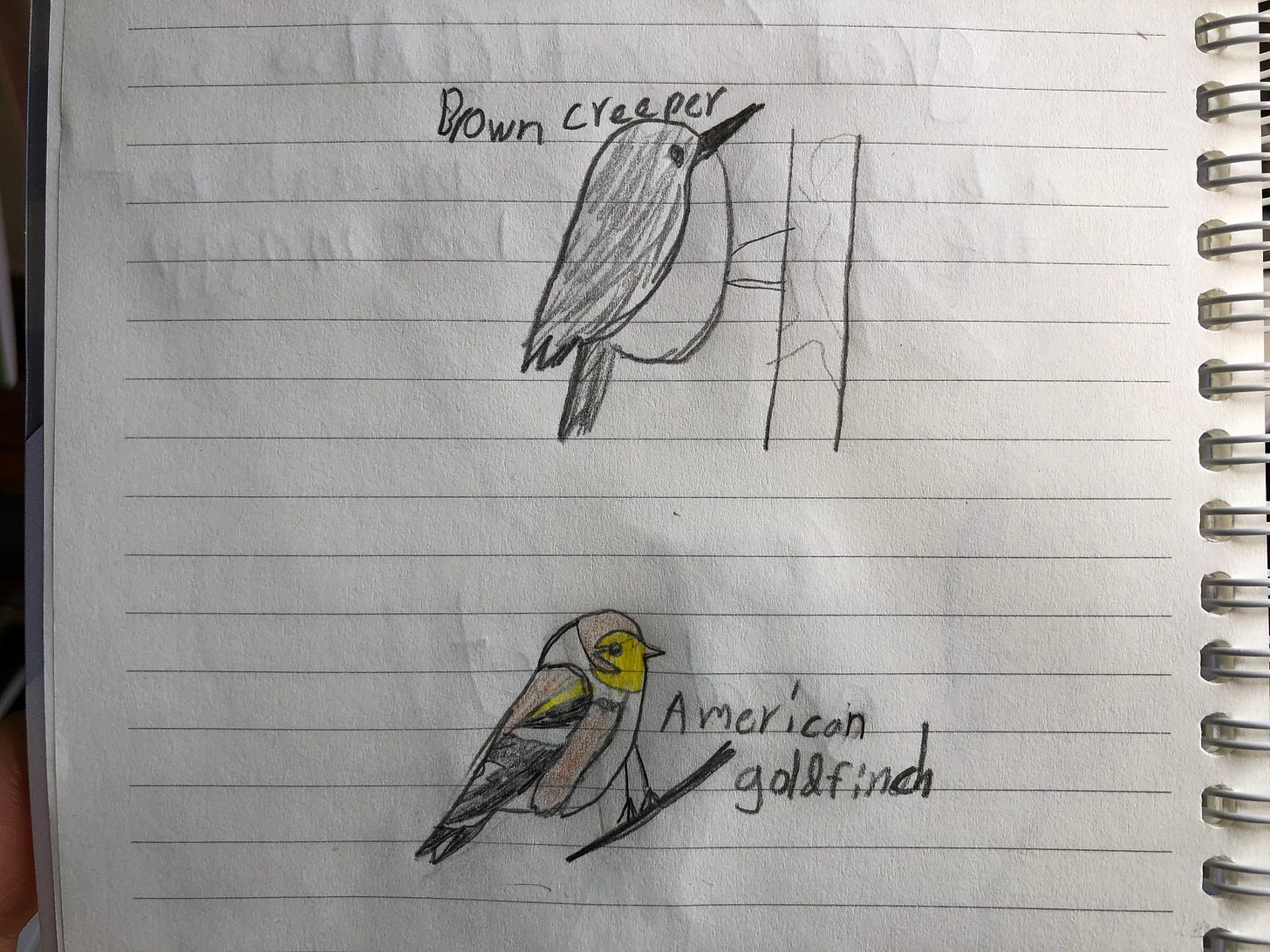 My drawings or his? I'll let you decide
---
I've been told many times to give meditation a try, even by my doctor. I've just never done it. I'd like to and I admire those who do but it just hasn't become a habit for me. Yet.
I used to have a daily, uphill bike commute. I considered that to be my free mental time. I used to take weekly dance classes, where I would, if lucky, achieve flow. And I swim (usually, insert all the crying emoji here) which is my own way of emptying my brain, simultaneously shedding and serving my ingrained need to multitask (ok, concentrating on the arms! Now the legs! Are my knees bending? Focus on exhaling! Etc). That's about as close as I'll probably ever get to meditating and it works for fine for me.
However, bird-watching has unexpectedly become a way for us to be slow and quiet and open, just tuned in to our surroundings.
Was that the tok tok tok of a woodpecker? The thief! call of a blue jay? Most of the time, there's just the sound of wind. A slow approaching, then retreating, car.
It doesn't get boring because there's the pull of the prize, the bird sightings.
Who knew my kid would be the one to bring me gently into the fold of a meditative exercise?
If you want to try it yourself, it's super easy. Google up a few pointers, like this list of bird silhouettes and then just go for a walk.[1]
Open your eyes. Give yourself time.
Oh and for the record, this morning's big prize? Two goldfinches! Small, with bright yellow bellies. And four creepers — like woodpeckers, they are tree-clingers.
If you've got a new small routine that's your own mental escape hatch, a way to gamify some mindfulness or just plain have a moment of pleasure, please tell me about it. I'd love to hear from you.
Cake by the pound
So I was talking about cake recently and my son (aforementioned birder) said, "You have three cakes."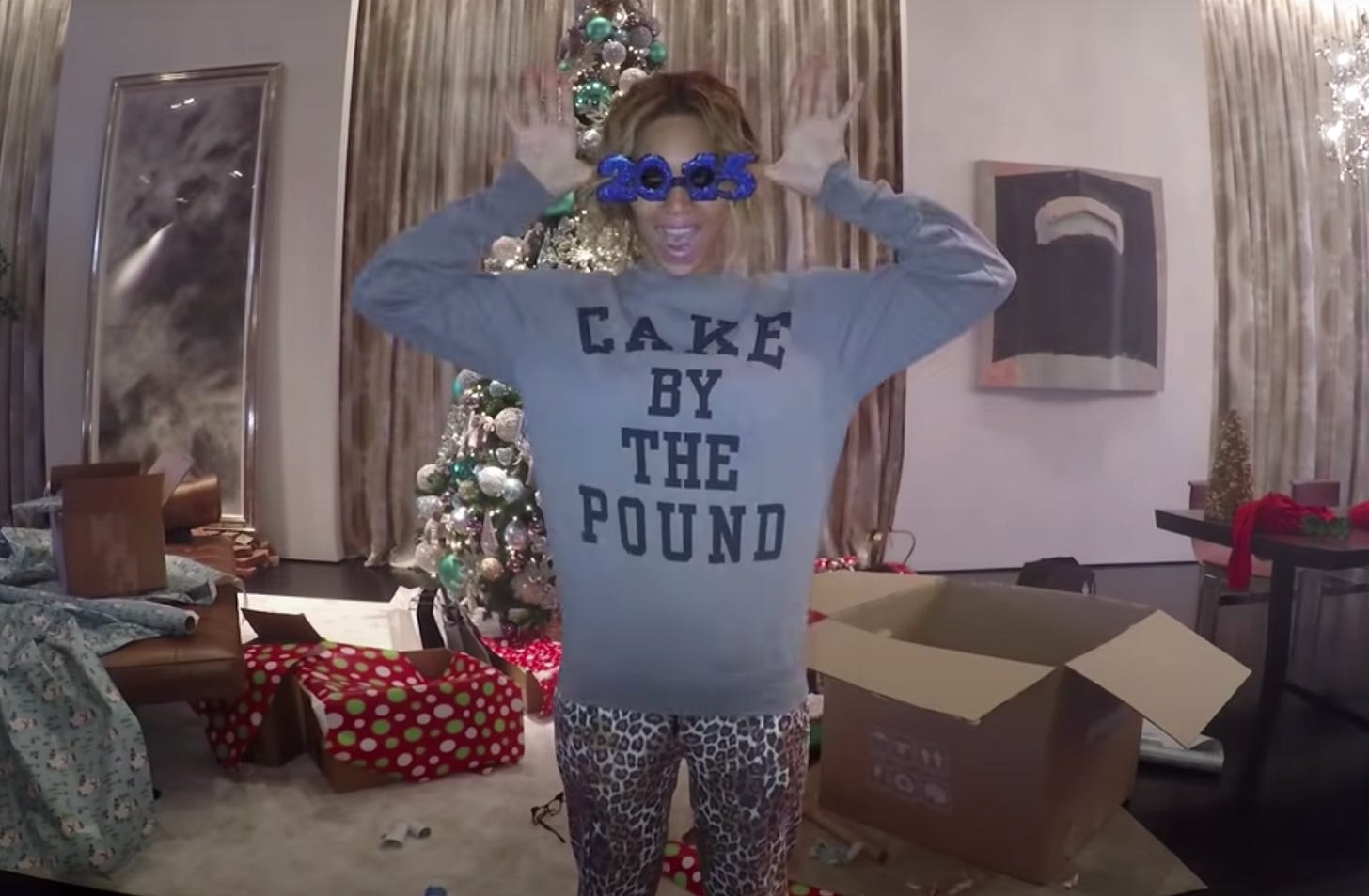 Wearing a sweatshirt, the uniform of COVID times. Beyonce in the video for 7/11
---
Wow, I didn't know he was paying attention that closely but when it comes to cake, the child doesn't lie.
"Carrot, lemon and chocolate." He listed.
Absolutely correct, lol. I do have just three cakes. I haven't branched out because these recipes are literally foolproof and I don't have time for busted cakes.
During the week, I was on a Zoom with friends and one person showed us a chocolate cake, just out of the oven.
"Baking is so stressful!" She exclaimed. Huh? It was her first cake ever, it seemed. I thought back — true, baking is stressful if you don't do it often.
I started baking because I love homemade food and hate store-bought frosting. So I became a pro at the above three and if you want some cake in your life, and you're new to baking, try one of these, it will totally do the trick and only requires common ingredients.
Smitten Kitchen Carrot Cake — The trick, it turns out, to the best carrot cake is grating carrots on the fine side of your box grater [2]
Lemon Yogurt Cake — The one I have is a version of this link, and I hear adding turmeric, a la Alison Roman, is a beautiful touch, too [3]
Vegan Chocolate Cake — The friends who will make fun of me for making something from All Recipes gladly eat this cake and love it, I will have you know! [4]
What are you watching?
I'm a little overwhelmed by all the "best of" entertainment listings of our current era. So I'm going to give you just two picks, and I hope you haven't already watched them because they're both great.
Feel Good: This was delightful and surprising, a comedy series by a Canadian woman I'd never heard of. Written by and starring Mae Martin, it's the story of a young woman making it in the comedy scene in London while starting a new romance loaded down with a lot of baggage. Loved it.
Game Night: Okay, this movie is actually a recommend from Globe and Mail film critic Barry Hertz.[5] And I am a total skeptic when it comes to broad romcoms. I always want to enjoy them but inevitably leave steaming, annoyed by all the sexist, racist, lowest-common denominator gags and consumeristic values therein (take me to the movies! I'm so fun!). This flick isn't a straight-up romcom, per se, and entertains with minimum reason to want to blast off Planet Earth. I had several moments of laughing out loud and I'm a total sucker for Jason Bateman and Rachel McAdams (don't lie, you are, too!). Total recommend.
One World: Together At Home concert [6] — Who knows? This might be Gen-C's Live Aid (I still remember what Madonna wore during that concert, which I taped on VHS and lip-synced every day).
I'm excited to see Lizzo (will she bring out the flute?) and if the home concert thing gets too boring, I will fall back on a classic, a massive-crowd, true stage production like Beychella.
Let me know what you're into these days for fun and survival. It doesn't have to be news-worthy, I just really want to know what you're up to when you're not holding it down, every day, keeping your ship afloat!
If you liked what you read, forward this to a friend. I'm still developing this newsletter as a reaction to the overwhelming nature of news, especially at this time. It's not about avoiding news (I'm in it every day!) — it's about acknowledging all the emotions we have interacting with the world, thinking about the people we love most and how to make the world better in the ways we can. If you'd like to share your thoughts with me on what you'd like to see in ATEOD letter, please do!
Thank you for reading,
Hannah
[1] All About Birds https://www.allaboutbirds.org/guide/browse/shape
[2] Smitten Kitchen carrot cake https://smittenkitchen.com/2008/12/carrot-cake-with-maple-cream-cheese-frosting/
[3] Lemon Yogurt Cake https://www.foodnetwork.com/recipes/ina-garten/lemon-yogurt-cake-recipe-1947092
[4] Vegan Chocolate Cake https://smittenkitchen.com/2008/12/carrot-cake-with-maple-cream-cheese-frosting/
[5] Every movie worth watching on Canadian streaming services https://www.theglobeandmail.com/arts/film/article-every-movie-worth-watching-on-canadian-streaming-services-for-every/
[6] One World: Together At Home