I'm Hannah Sung and I write At The End Of The Day.
Thank you for reading, I appreciate you so much!
Unless you're Rex Murphy or Stockwell Day, in which case you're not invited.
Everyone else, please. Right this way.
Subscribe to get a people-first perspective on the news in your inbox.
The last few days have been a doomsday conveyer belt of news. I needed off for a second. And I got that escape yesterday in the form of a text: "I'm in your neighbourhood!"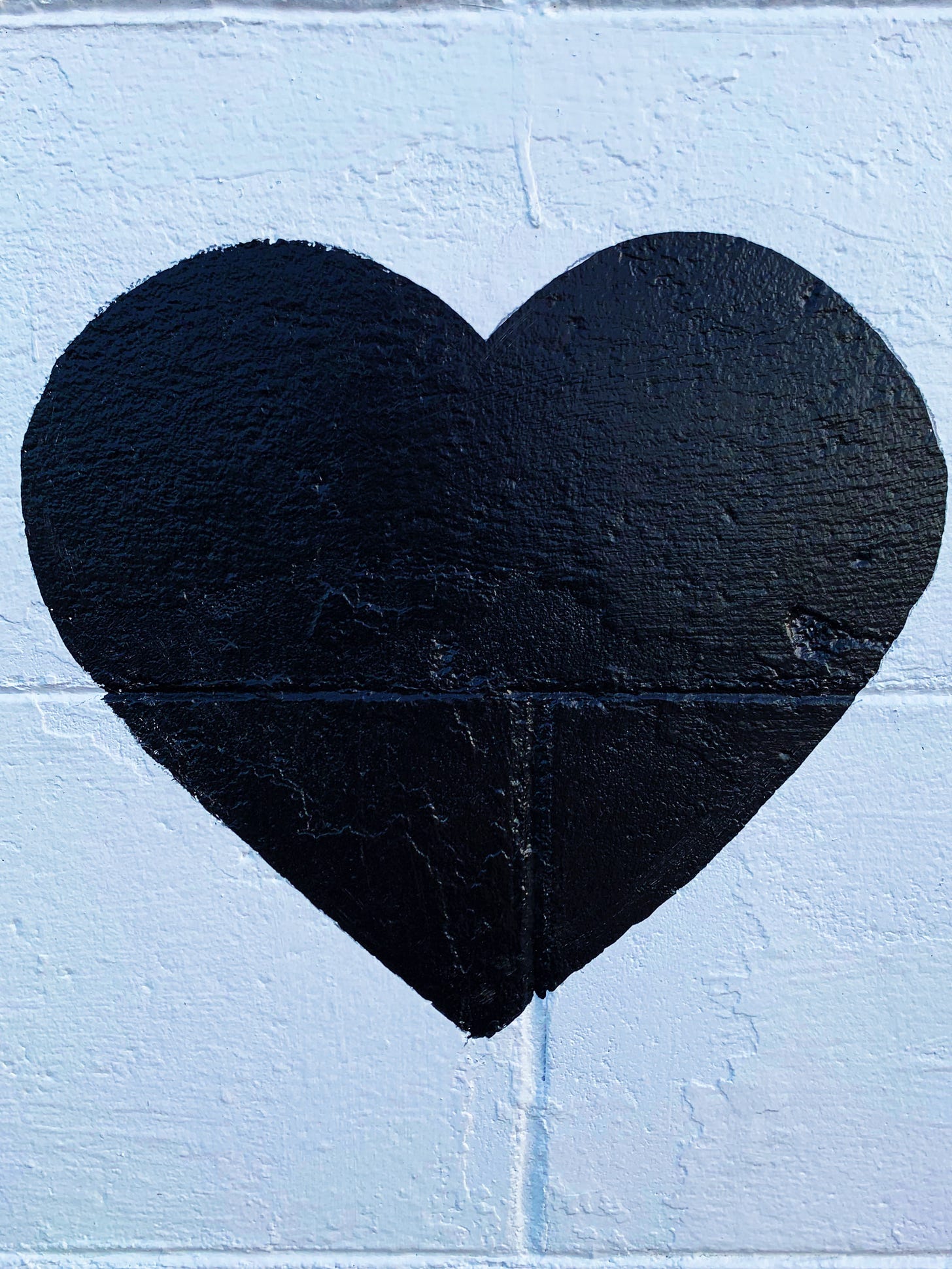 Credit: Bryan Garces, Unsplash
---
One bright spot in this horrible, burning, contagious new world is the random drop-in. My friend Sherrill dropped by for a physically-distanced visit and it was exactly what I needed.
The sun was shining and her 5-week-old baby was peacefully napping in a pouch with a ladybug-red cotton hat perched jauntily on her teeny noggin.
Sherrill is also a journalist and a woman of colour, which means there's a lot we understand without having to over-explain. It felt easy to talk about things that aren't safe in other conversations, for example on social media or at work.
We talked about Canadian news coverage of anti-Blackness, police brutality and the CBC Radio interviews we wake up to every morning. We critiqued it all (some of it passed muster).
She told me about her lowest day of the week and I told her about mine, as I mimed flipping a table and blasting off into outer space. The charades were good for a few laughs. I realized after she left how much I needed that conversation.
Processing the news these days is hard. And it absolutely should be, if you're not Black (but of course, please cry in private, or after considering the Ring Theory, which is below).
My point? There are so many reasons to visit with a friend right now. It sounds silly but given the pandemic, a lot of us aren't having our usual social interactions, the kind that release the pressure valve.
Instead, if you're like me, you're marinating in your anger as you try to concentrate on work, flicking between a million never-ending conversations on our devices, interspersed with videos of cop cars ramming peaceful protesters and politicians in the U.S. calling for militarized response to their own citizens. [1]
Visit a friend in person. If you can. Social media has been an interesting trip this past week. [2]
K-pop stans fighting white supremacy with boy band GIFs? We live in the future [3]
---
Social media will never compare to to talking to another human being you trust, with your actual voice.
You might, like me, get to see your friend's laughing face and have a pottering catch-up that includes muumuus, fun gossip, bodies after birth and the story of a dad responding to current events by sending a Black Eyed Peas song to say, "Where is the love?" ("Thanks, Dad.")
You'll talk about George Floyd and the ongoing refusal for many leaders in Canada to understand systemic racism. [4]
And if you're lucky enough to be in the presence of a cute chicken of a newborn baby in a red hat, you'll coo and laugh and the entire range of what two people can talk about in 20 minutes will be life-giving.
I hope you have that friend in your life. Just call them.
How to Ring Theory
I recently came across psychologist Susan Silk's Ring Theory, a great, simple concept to help you be there for someone in crisis. I read it in a really great newsletter, Friday Things. [5]
Imagine concentric rings with the person experiencing the crisis is at the centre.
So, when we're talking about anti-Black violence, Black people are in the centre ring. Non-Black POC and Indigenous people, who also face police brutality and systematic racism, though not always in the same ways, are one ring out. White people are one ring out from that. That doesn't mean white people can't talk about their sadness or guilt or anger—it has absolutely been a heavy week and if you're a human being, you have feelings about it. It means you should be talking about your grief to other white people, but not to Black people, who are actually the ones experiencing this trauma.
Credit: How To Be A Good Ally To Your Black Friends, Friday Things
Thanks to all the wonderful people out there who are doing the labour of teaching the rest of us. And if you're actively learning, I appreciate you, too. I'm right there with you.
Are you a student or teacher in this?
So far, I've been writing to you assuming that at the end of this week, you feel exhausted, wishing progress could come quicker. For you, I hope you get tons of double-decker ice creams and laughs with friends in the coming days.
But if you're not feeling exhausted, I think you need to be angrier. Hmm, maybe that's too vague because Stockwell Day is probably angry today, having lost all his jobs (totally deserved), so let me specify: You need to be angry about anti-Blackness and police brutality in Canada (why not start at home?).
If you continue to bird, garden, golf, work, play and live with little thought given to Regis Korchinski-Pacquet, George Floyd, Breonna Taylor, police brutality and the daily crumbling of democratic standards in the U.S., please be angrier. This is your time. Especially if you're white. It's your time to learn, on your own.
I'm learning a lot from Black women in this ongoing public conversation. For example, the most interesting public debate to me right now is that of defunding the police.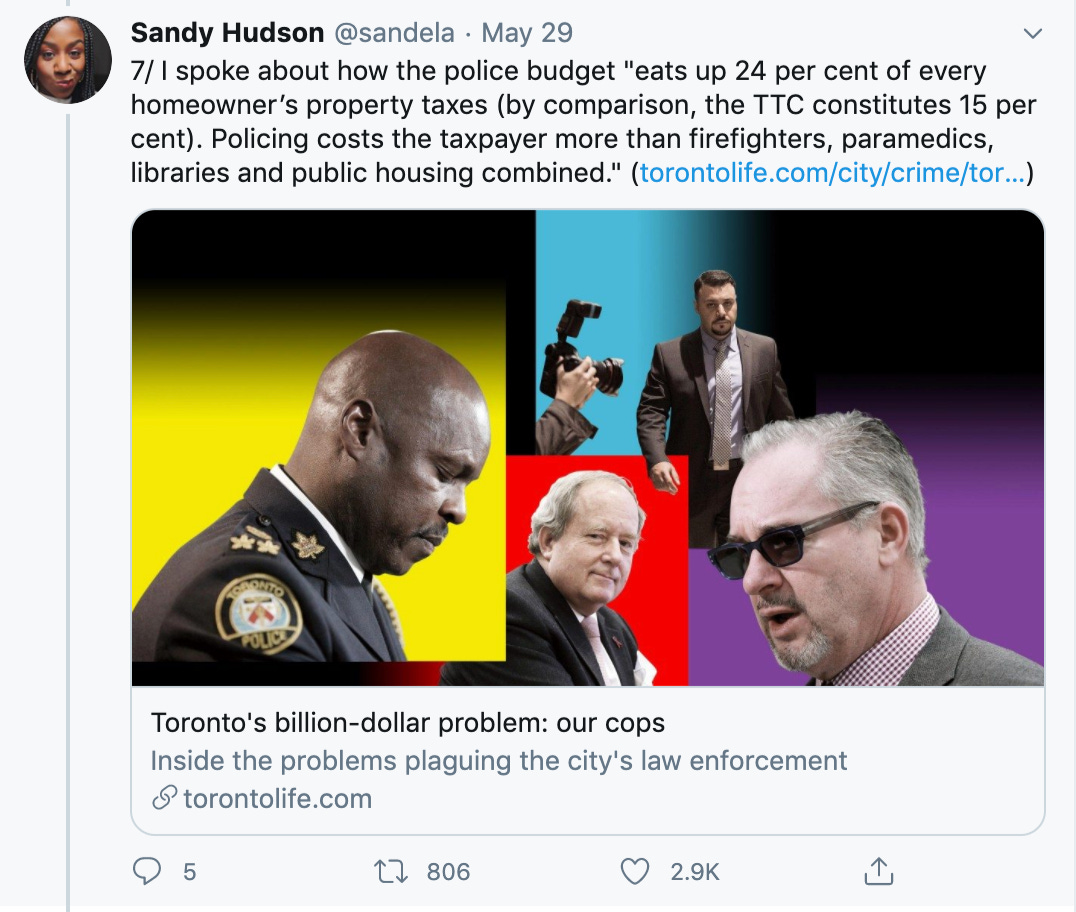 Credit: Twitter/SandyHudson
---
It would be super-great if the emotional labour of teaching anti-racism didn't have to fall on the shoulders of people of colour, often Black women organizers.
Sometimes I feel like a broken record (do I sound like a broken record?).
Often, white, or non-BIPOC (Black, Indigenous, people of colour) people get confused about "taking up space," not wanting to speak out on race, a topic that doesn't feel like it's theirs to speak about (hot potato! it's yours now!).
But it feels like things are actually changing. [6]
I'll honestly tell you that every time I've been asked to speak about race and racism in the workplace, I wished more white men were in the audience. My bosses, white men, don't attend. The crowd was always filled with the choir (thank God for this choir).
So, in the spirit of the patience of a million Black women, I'm going to share a story about one Black woman, who happens to be a friend.
I met Hadiya Roderique when she wrote the blistering and brilliant, "Black on Bay Street" essay for the Globe and Mail, where I worked at the time. [7]
This week, she sent around a message to friends, giving us titles of books to read ("your fun reads can wait"), saying, "We need to move beyond being 'not racist,' and rather, practice being anti-racist."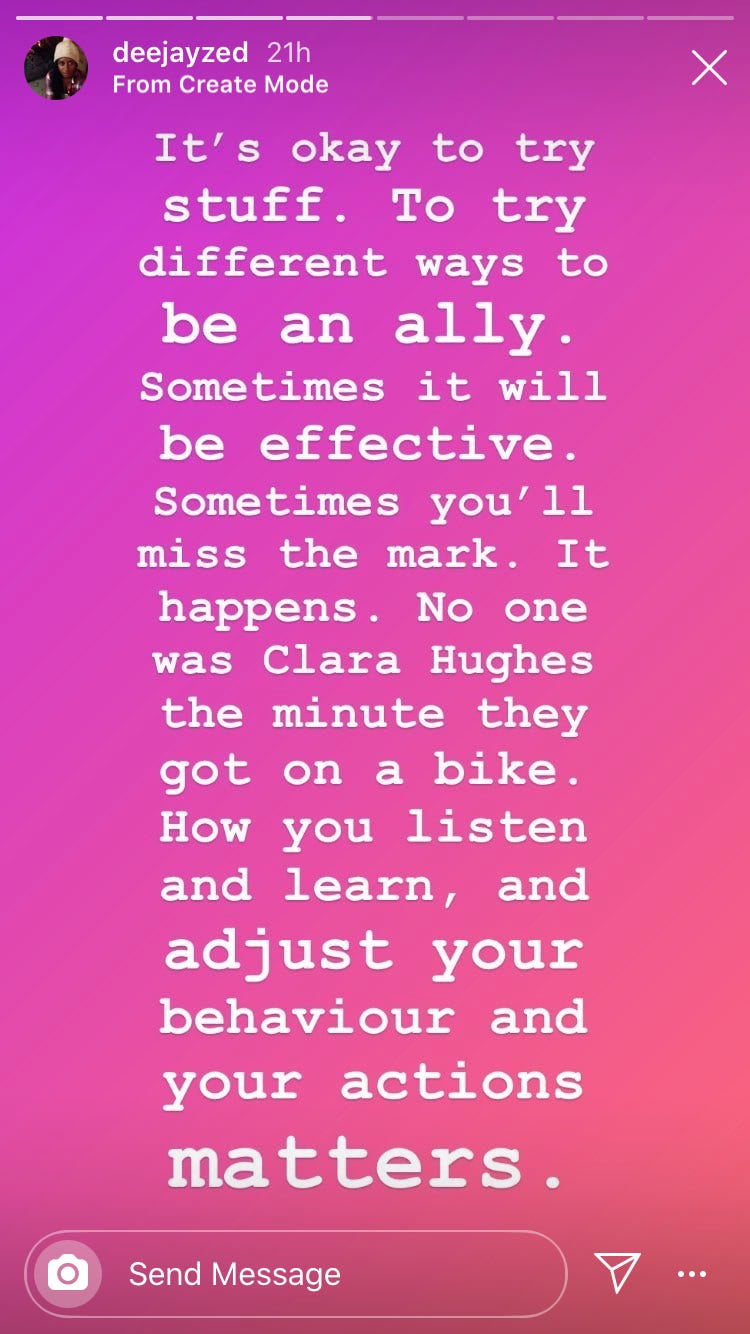 Credit: Instagram/deejayzed, Hadiya Roderique
---
Hadiya sent us all a massive reading list and a really warm note.
A lot of people don't have room for this kind of labour right now, but I'm not working (mostly) for the summer (except for the afro-futuristic pandemic novel I have to write by September) and have more capacity than most. And, if I've included you on this email list, it's because I treasure you as a friend and person, and am okay with doing this kind of labour for you. I also want to learn about where you are in the journey of being anti-racist, and help you in that journey if I am able.
Can you imagine being this generous with your time and energy? Can you imagine how mind-blowing and amazing her Afro-futuristic pandemic novel is going to be when it's published?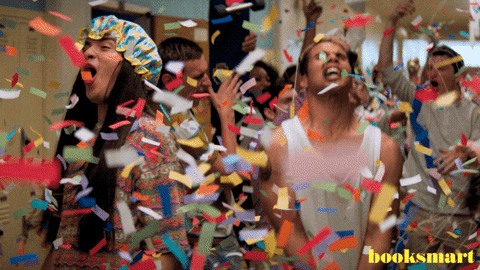 You don't need to have a friend who is so conscientious they will send you this kind of message. You can cultivate your own social media feed. And crib this reading list (also recommended by Hadiya) and just do the work yourself. [8]
I have a white friend who is starting a book club to read these titles together with other white friends who want to do the work together. I think that's a brilliant idea. Because wine (wait, what? That's what book clubs are for, right?).
Money, the bottom line
If you have enough money to buy books, you probably have enough to make a donation, too. There are many lists of worthy, established organizations.
I chose to go local with a legal aid fund for Black people, a young Black professionals organization and an anti-racism organization. I believe in their work and am grateful for what they do.
I'll end with this food for thought, a short talk on defunding the police by Desmond Cole.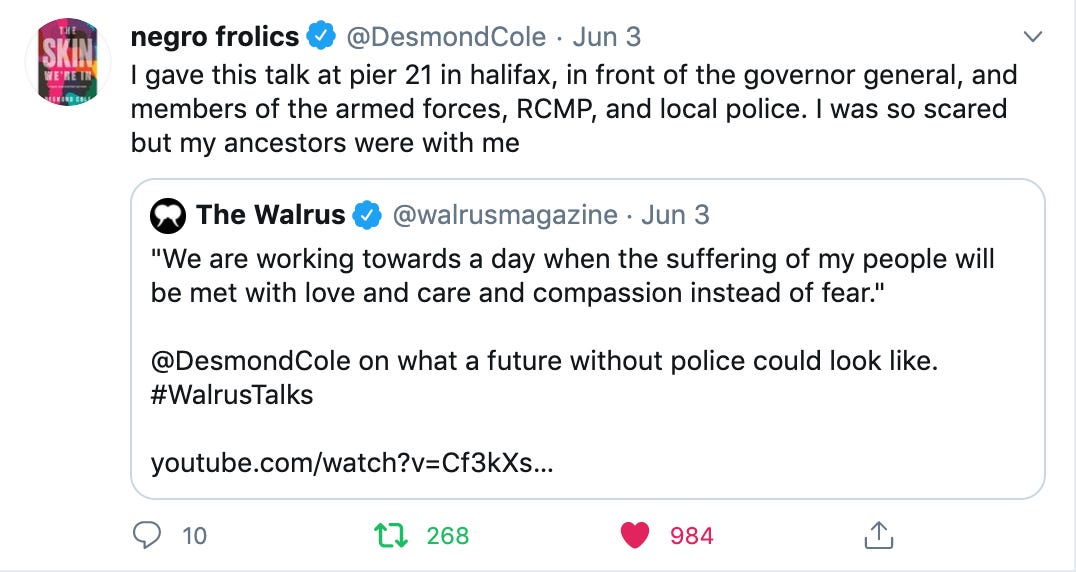 Credit: Twitter/DesmondCole. Link to video in further reading, below [9]
Thank you for reading,
Hannah
---
Subscribe to The Conversation Piece, a podcast from The Walrus, that challenges the way you see everything.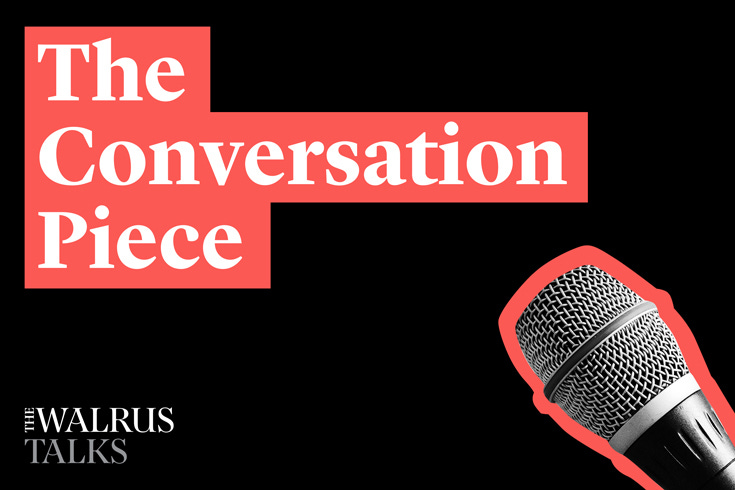 Subscribe at Apple Podcasts, Google Play, Spotify and your favourite podcast app.
---
Further reading:
[1] Senator's 'Send In the Troops' Op-Ed in The Times Draws Online Ire, The New York Times
[2] Outpouring of non-black support on social media met with appreciation, skepticism, The Globe and Mail
[3] K-pop fans take over 'White Lives Matter' hashtag to drown out 'racism,' Global News
[4] Canada Has Race-Based Police Violence Too: We Don't Know How Much, The Tyee
[5] How To Be A Good Ally To Your Black Friends, Friday Things
[6] A Black Lives Matter Co-Founder Explains Why This Time Is Different, The New Yorker
[7] Black on Bay Street, The Globe and Mail
[8] Anti-Racism Resources, Good Good Good
[9] What a future without police could look like, Walrus Talks