Welcome to At The End Of The Day. I'm Hannah Sung. I write this newsletter to process a never-ending firehose of news and get perspective on caring for our families, friends, ourselves, our communities and the greater good.
First of all, ABOUT LAST NIGHT.
Kyle Lowry-level scrappy getting-things-done vibe is #goals
---
I'm a Raptors playoffs bandwagon fan and I love it. Last night, in Game 6 against the Boston Celtics in double overtime, the Raptors delivered with an exciting, delicious win — and people can really use a win right now.
I scrolled Twitter for a while after, grinning at memes. Raptors play-offs Twitter was jubilant, lively and funny — very different from my daytime "school is coming" doomsday feed.
Is 2020 over yet?
---
I can't believe summer, which was such a reprieve with the sunshine and freedom of being outside, is coming to an end.
I'm reflecting a lot on August, not just because it was glorious, weather-wise, but because I spent that month doing something new to me. I worked with others to advocate for a safer return to school, speaking up and organizing via social media. [1]
I don't usually amplify my own politics so I was uncomfortable but had to speak my mind.
Mid-August, I went to a Zoom meeting of concerned citizens where someone sparked the idea of making a video. In less than a week, we were pushing a social media campaign called #SmallerIsSafer. The message was simple. We encouraged Ontarians to speak up with a video open letter to Ontario Premier Doug Ford asking the government to fund and reduce class sizes so students and teachers can physically distance.
One of the speakers in the video is my friend, Hanna Faghfoury. She's whipsmart, funny and super-stylish. Professionally-speaking, she's a doctor who specializes in rare genetic diseases and teaches with University of Toronto to train new doctors entering the field.
As Hanna and I spoke up, online and elsewhere, we both experienced similar discomfort. In medicine, as with journalism, you're supposed to remain neutral. Opinions are for your off-time.
(In journalism, it's complicated – if you're a reporter, you should remain "objective," while columnists and hosts get to have opinions. Overall, there is a snowballing recognition that the pillar of "objectivity" in newsrooms is one that serves privilege while erasing the experiences of BIPOC. ) [2] [3]
We know COVID-19 infects along class and race lines. [4]
COVID-19 infects vulnerable people and communities. That was top of mind when I wrote about smaller class sizes in ATEOD and the Toronto Star. [5] [6]
I was tweeting relentlessly. All the while, Hanna and I both privately struggled with the unwritten code of conduct associated with our jobs: We are supposed to stay neutral. We're not supposed to be organizing letter drives to the Premier of Ontario. Yet here we were, alongside others, doing exactly that.
This is a video created by OntarioSAFE, a group of volunteers asking the Ontario government to mandate and properly fund smaller class sizes for a safer school re-opening
---
Hanna and I are no longer the scrappy 20-something people we were when we first met. Now, almost 20 years later, we have some influence in our work worlds. What are we saving it for, an emergency? A moral crisis? Because we're in it. 2020. It's happening.
Yes girl! This tweet was about Hanna
---
Now, it's September and our kids are slated to go back to school next week (class sizes were not reduced, smh).
Hanna and I took a moment to talk about how, in this racial, climate, economic and actual viral pandemic, we're also navigating how to speak up, what it means to be neutral and our moral obligations.
CAPTION: Dr. Hanna Faghfoury. Her background = peak nerd chic
---
ATEOD: When did you and I start talking about how to fit speaking up into our roles, do you remember?
HF: I started thinking about it more during the Black Lives Matter protests in the spring. I recognized how uncomfortable I was about talking about anti-racism with the students. If nobody in leadership in your institutions is talking about it when the rest of the world is on fire and raising it on every form of social media and protesting on the streets, that discrepancy is really uncomfortable. I felt very strongly about the movement and I was reflecting on ways to have discussions with my own family, but in the professional realm, there was a lot more tension.
ATEOD: Let's talk about that professional tension.
HF: In my work world, there is a push to neutrality. We are meant to do what's best for the health of patients regardless of their background or lifestyle choices. And we rely on medical evidence.
I don't judge physicians for not wanting to advocate publicly, partially because we haven't been trained on how to do that. But there's also the worry that being outspoken would be regarded as unprofessional.
I've had a lot of feedback from trainees who have told me they fear repercussions if they go on social media and make their viewpoints known. I mean, I, as a faculty member, don't feel fully safe giving my opinions, for fear of being regarded as unprofessional. And so I worry that in certain fields, professionalism is almost weaponized so that we stay in line. We need better representation in leadership so that our definitions of professionalism are not so narrow. That would help chip away at that culture.
Since Black Lives Matter, and now with school re-opening, I see a lot of these puzzle pieces falling into place. Being actively anti-racist is good for us all. It's good for the health of all of our communities. Trying to advocate for equity within schools is good for the health of all of our communities. So isn't that something that is in our wheelhouse as physicians? Shouldn't that be part of what we do? That's what I'm trying to sort out on a personal level for myself.
Did you feel a similar experience when you were in a media institution?
ATEOD: Of course.
And I feel like it's the kind of conversation that people are either already having or want to have — or struggling with privately, not even knowing how to approach it. I've thought a lot about why now I'm able to say and do the things that, if this were our circumstances last year, or five years ago, maybe I wouldn't have been able to. It's about power and privilege and entrenched ideas of "professionalism." So it's personally uncharted territory for me. And I hate that idea. I hate the idea that you can feel very alone.
HF: It's been easier for me to have these conversations with people outside of medicine for the most part because it feels safer. I can talk to you about my feelings and it's therapeutic for me, but it doesn't replace the fact that I wish I didn't feel so alone in my hospital, or in my clinic when it comes to this kind of stuff. So, that's where I hope to create a network of peers that have similar values, or at least can engage in that conversation in a reasonable way. That's what my aim is moving forward.
ATEOD: Let's bring it to something concrete, speaking publicly on safer schools advocacy, for example. How could that possibly be controversial in your profession?
HF: I think there's a worry that any large campaigns can be spun in a way physicians would not necessarily be comfortable with. That's where the trust comes in like: Who are the people outside of the physician group you normally interact with, friends you know well in terms of their values? How do they interpret the data? Do they understand the science? Because that's what's important for physicians. The last thing you want is misinformation.

As a physician, I see all these parts. And I know that smaller class sizes are not the be-all and end-all of safety. But when I see an opportunity to say "We could do better here," I will take it. But there are some physicians that are worried criticizing the back-to-school plan is going to distract from the fact that being in school is actually healthy from a social perspective for students. It's sometimes hard to put yourself out there in a campaign that eventually will take on a life of its own.
I know I'm going into a highly political arena, even though as you said, it shouldn't be. Should that stop me from participating? I haven't sorted that out for myself. There's part of me that feels very self-conscious.
ATEOD: It might sound like I watch too many medical shows, but let's talk about the Hippocratic Oath of "do no harm." As a doctor and as somebody who advocates for your values publicly, how do you live by that phrase?
HF: The statement is broad enough that I think it's open to interpretation. As I've engaged in more leadership roles, I realized my responsibility to do no harm goes way beyond individual patients. It has to do with where that patient fits within their communities, where I fit into my communities and how I can advocate for health on a much larger scale. So it's evolved with professional experience, feeling more confident and safe in my field, but also having personal experience, like we all have, during the pandemic, to say maybe that definition of "do no harm" for me, as a physician, is broader than I had imagined even a year ago.
This interview has been edited and condensed for clarity.
If you enjoyed this newsletter, forward it to a friend.
I think we're all doing a lot of re-examination and introspection this year and if not, we should be.
Thanks so much for being on this journey with me. I always love hearing from you. Just hit reply to write me back.
Hannah
At The End Of The Day is edited by Ishani Nath, master of words and good vibes.
---
FURTHER READING:
[1] OntarioSAFE: Ontario Safety Advocacy for Education (Ontario SAFE)'s mission is to create awareness and advocate for safe and equitable conditions in Ontario schools
[2] Letter to a Young Indigenous Journalist, the Walrus, Waubgeshig Rice
[3] Objectivity is a Privilege Afforded to White Journalists, the Walrus, Pacinthe Mattar
[4] 83% of COVID-19 cases in Toronto among racialized people from May - July, data suggest, The Globe and Mail
[5] One way to fight for safer schools, At The End Of The Day
[6] Put pod plans down and make schools safe for all, Toronto Star
Seeing medicine's hidden curriculum. In our real-time conversation, Hanna and I talked a lot about the concept of a "hidden curriculum," or what you might call "unwritten rules." Here's an explainer in a medical training context.
Toronto's rich neighbourhoods opt for in-person school. This is visual representation of data on neighbourhoods in Toronto, based on geography, income and multigenerational homes, and how families have opted in or out of in-classroom learning.
This teen lost his mom to COVID-19. Now he's starting the school year without his fiercest ally, Toronto Star. Heartbreaking story of an amazing student and his dedicated mother. Education isn't one-size-fits-all.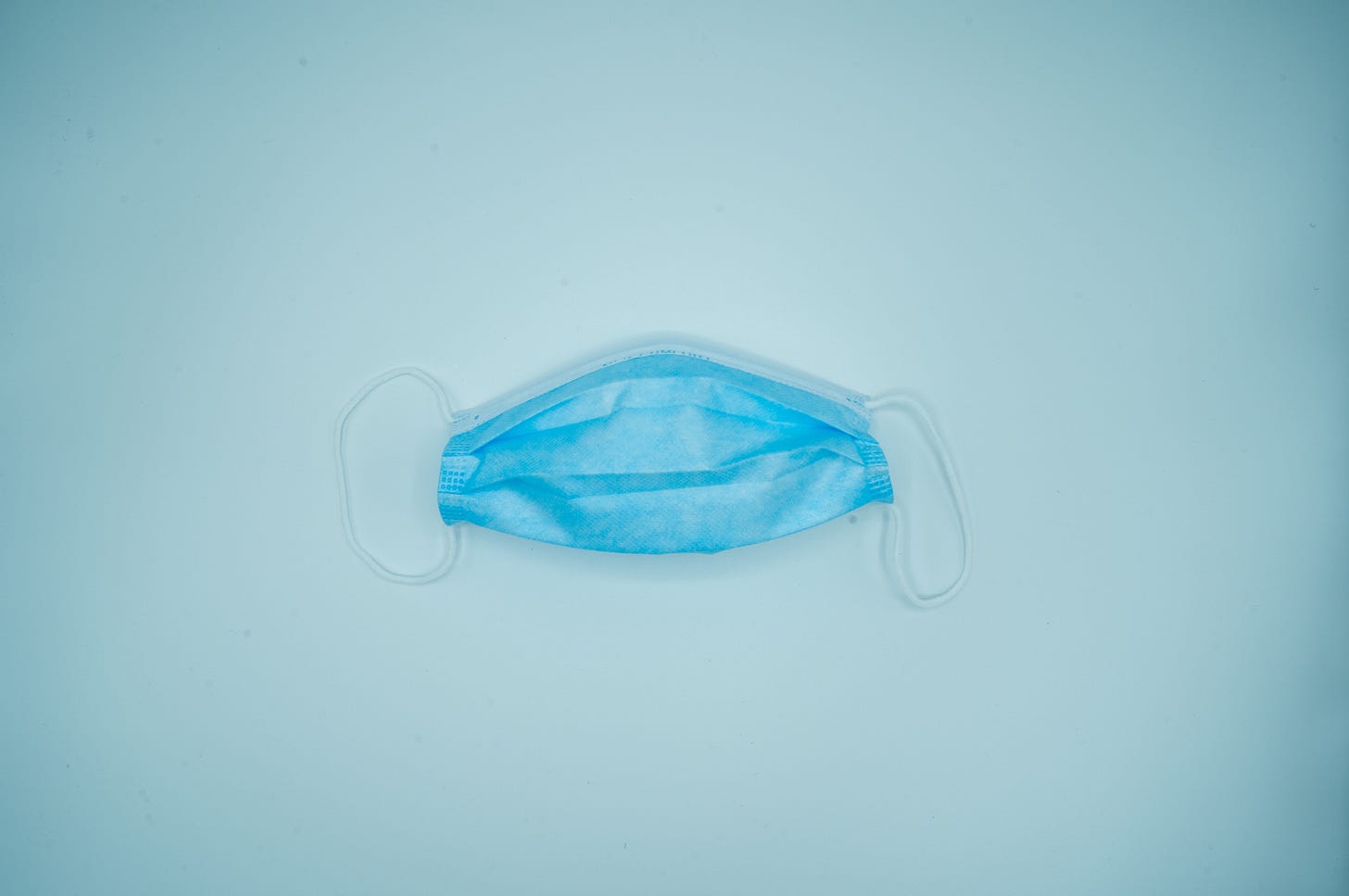 Credit: Dimitri Karastelev, Unsplash